A President Zachary Taylor Poem
Please enjoy this Zachary Taylor poem, Slave State Dispute and Bad Fruit, by Denise Rodgers.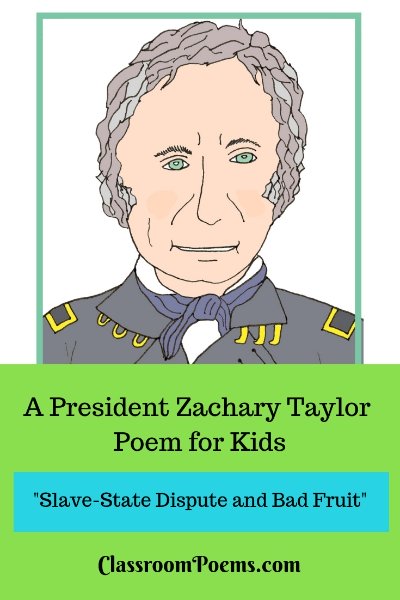 Slave State Dispute and Bad Fruit
(A President Zachary Taylor Poem)

Zachary Taylor was mum on his views
and left to the voters to guess how he'd choose.
Because he owned slaves, all the South thought it fair
to assume he'd approve slavery growth everywhere—
Wyoming, New Mexico, every new state.
But after they voted, they found out too late
that while he owned slaves, he still felt it was key
that every new state signing on should be free.
South Carolina, upset, disagreed
and promptly, did threaten  (once more) to secede.
The slave states were angered, were troubled, perplexed.
But we'll never know what Z. Taylor did next.

He ate some bad fruit and his life was cut short,
this crisis unsolved yet, by any report.
A lesson to learn?
If you can't take the heat,
at least wash your fruit and watch out what you eat!
Poem and Art by Denise Rodgers
Copyright©Denise Rodgers
Permissions
---
President Zachary Taylor Facts
12th President of the United States
Term:
1849-1850
Political Party:
Whig
Born:
November 24, 1784, Barboursville, Louisiana
Died:
July 9, 1850, White House, Washington, D.C.
Married:
Margaret Taylor (1810-1850)

---
Facts about the Zachary Taylor Poem
The slavery issue heated up during Taylor's short term in office. As more new states joined the union, there was much political fighting about whether or not the new states (coming into the Union because of expansion under President James K. Polk) should allow slavery or be free states. We'll never know how Taylor would have handled the controversy because he died, unexpectedly, after eating a bowl of bad fruit.  Taylor's vice president, Millard Fillmore, became an instant president upon Taylor's untimely death.
More Facts to Support the
Zachary Taylor Poem
• While some historians say President Taylor died from eating cold cherries and cream in the July heat of Washington, D.C., others thought he might have contracted typhoid from the primitive White House plumbing of the time.
• Taylor was nicknamed "Old Rough and Ready" for his calm and strong leadership on the battlefield during the Mexican-American War. Also, because he shared in the physical hardships, in and around the battlefield, with his troops.

• President Taylor's home was in Baton Rouge, Louisiana. He also owned a plantation in Mississippi.
• The Free Soil Party, made up of Northerners who opposed slavery in the new states, nominated Martin Van Buren as their presidential candidate. Van Buren pulled enough votes from the Democratic candidate, Lewis Cass, to win the election.
• Although he was a slave  owner, forty years in the US Army made him a strong nationalist. This is why, despite owning slaves himself, he did not defend slavery, or the South's plan to secede from the Union.
• Taylor always looked disheveled, and detractors felt he ran his administration in the same by-the-gut fashion he'd ran his troops.

President Zachary Taylor Fun Facts
• Zachary Taylor brought his horse, "Old Whitey," to the White House with him, as the horse was a beloved companion. During the Mexican-American War, Taylor rode the horse in battle and both horse and rider managed to literally dodge bullets.
• Old Whitey loved parades. It was reported that when the horse heard parade music he would start prancing.
• During his year at the White House, Old Whitey was retired and spent most of his time grazing the White House lawn.

If you enjoyed this President Zachary Taylor poem, our US President List page for a links to more poems about all the US presidents. For more facts about President Zachary Tayler go to WhiteHouse.gov.