NEW!!! 

A Little Bit of Nonsense
Now Available in E-book on Amazon!!!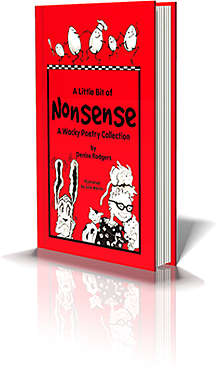 A Little Bit of Nonsense is loaded with sixty-five funny poems guaranteed to delight you and your children during bedtime reading. Enjoy bonding time with your kids or grandkids. Older children might like to read it on their own -- and you might too! Feel like the good parent you are, while making lasting memories with your kids. This hardcover book lists at 16.95.
Order your E-book
FREE with Kindle Unlimited or only
$2.99 on Amazon.
Get a hardcover copy, signed by the author
$9.99
plus nominal postage using the order button below!
(You will see the postage before you complete your purchase.)

CLICK HERE to learn about the companion Music CD.