Funny Acrostic Poems
& Acrostic Poetry
Funny Acrostic Poem #1

The first of the three funny acrostic poems gives instructions on how to write an acrostic!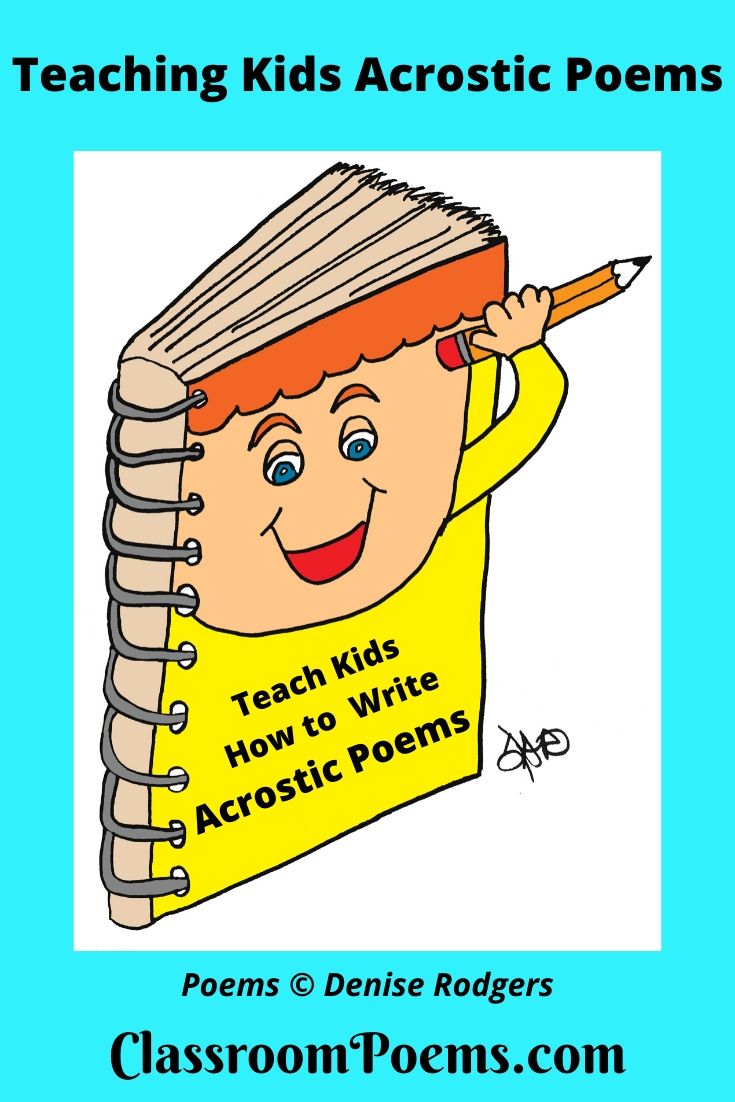 ACROSTIC
Acrostics are poems that begin with a title.
The use of each letter per line is so vital.

Challenging writers to work at their best
Still, poems should be fun, more a pleasure than test.

Rise to the challenge. Add an image or two;
A red cackling bird or a boat gliding through.

Ordinary words can be startling and crisp.
Like red-yellow lightening or, a dog with a lisp.

Start out each line with the title-name's letter.
Rhyme the next line and the poem's even better.

Triteness is boring, so try to dig deep.
You don't want your reader to nod off and sleep.

Inside are the answers to all of your Qs,
So, start writing down all the don'ts and the do's.

Crazy acrostics are one way to start.
Writing good poems is both fun -- and an art!

Poem and Art by Denise Rodgers
Copyright©Denise Rodgers
Permissions

---
Acrostic poems, funny or serious,  are perfect for beginners and for aspiring poets. The subject suggests the entire poem. And if you want to make it more challenging, you leave a space between each line, and then go back and add rhyming lines to round out your poem. 

Funny Acrostic Poem #2

DOG
Dog, man's best friend, is both waggy and furry.
You snap on a leash and the dog's in a hurry.

Out in the world, where there's old pee to sniff,
And tree bark, and hydrants. All great for a whiff.

Going for walks is just part of their day.
Beside that is eating. And sleeping. And play.

by Denise Rodgers
Copyright© Denise Rodgers 
All Rights Reserved
Funny Acrostic Poem #3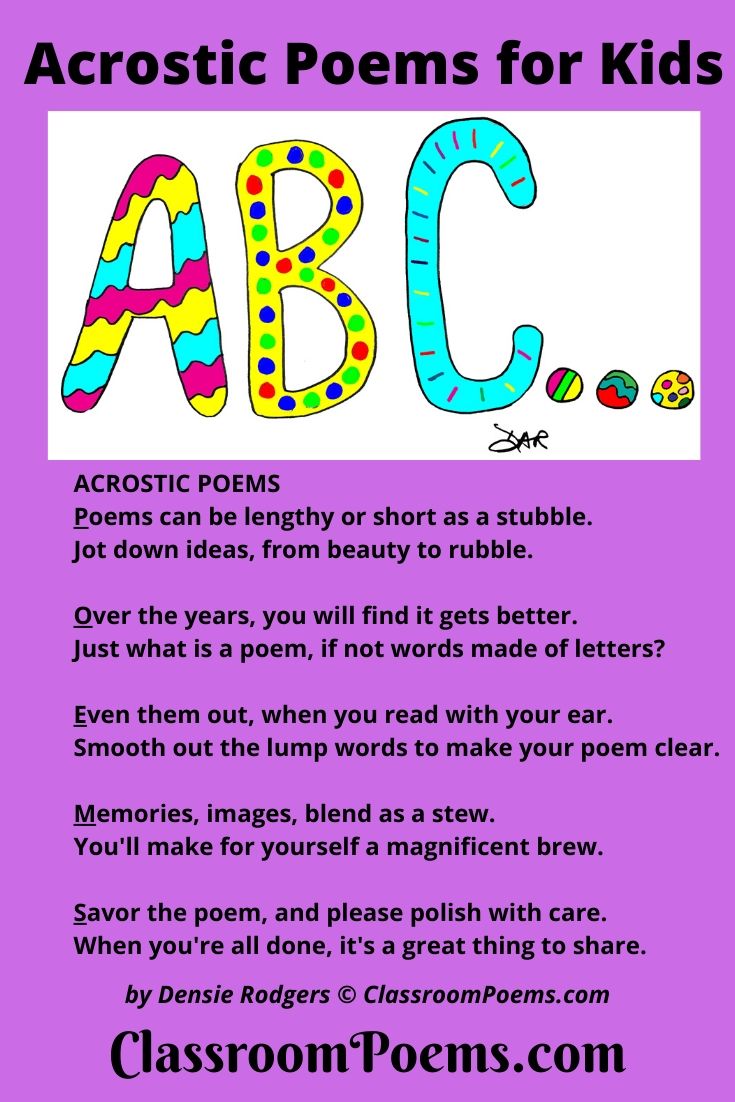 POEMS
Poems can be lengthy or short as a stubble.
Jot down ideas, from beauty to rubble.

Over the years, you will find it gets better.
Just what is a poem, if not words made of letters?

Even them out, when you read with your ear.
Smooth out the lump words to make your poem clear.

Memories, images, blend as a stew.
You'll make for yourself a magnificent brew.

Savor the poem, and please polish with care.
When you're all done, it's a great thing to share.

Poem and Art by Denise Rodgers
Copyright©Denise Rodgers
Permissions

Whether you're a teacher, a student, or a writer in search of your words, funny acrostic poems are a great exercise in writing. They can make great gifts as well. A poem incorporating a name or a title (Mom, for example) is always appreciated!