Funny Animal Poems
Funny animal poems are very popular. That's because all of us, city slickers, those of you out in the country, and suburbanites too, have a certain fascination with wild animals and zoo animals as well as with
our pets.

If you click through the links on this page, you will find poems from both my books of poetry, A Little Bit of Nonsense and Great Lakes Rhythm and Rhyme. The following funny poem is from A Little Bit of Nonsense. The title is "Noah's Ark." There isn't a title more animal-oriented than that!
And good news, all the poems on this web site are free! Read them. Share them - as long as they are for your own personal use and gift-giving. Please read our terms of use.
Funny Animal Poem - Noah's Ark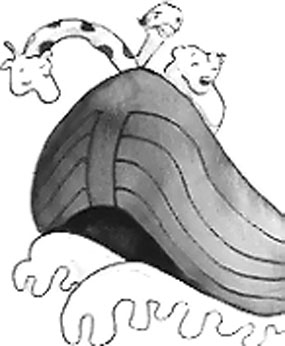 Noah's Ark
Ancient Noah had an ark.
He filled it up by day and dark
with mammals from the local zoo.
They walked the plank up, two by two.

And also, after quite a while,
the lizard and the crocodile,
the ostrich and the spotted owl
and countless types of fancy fowl.

Too bad he also packed some worms,
some flies, some spiders and some germs,
some poison snakes and biting gnats,
(but also friendly dogs and cats).

"Hark, come aboard." He used that phrase
as people talked weird in those days.
(Though far as scholars can distinguish,
we're sure that he did not speak English.

There is one fact that I abhor:
he did not pack one dinosaur
or tiger with a saber tooth.
He plain forgot, that is the truth.

by Denise Rodgers
A Little Bit of Nonsense
Copyright© Denise Rodgers
All Rights Reserved
Art by Julie Martin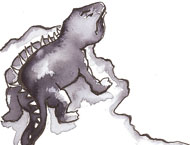 Animal poetry is universally popular, not just with children, but with adults as well. It is a rare family that doesn't have a pet or take an occasional trip to the zoo or circus. We like to hear the birds sing in the morning (unless it's waking us up!). Some people have bird feeders. Some go to rivers or ponds to feed the ducks. Others have multiple pets or enjoy birdwatching or "birding." Some of us enjoy animals, if only from afar, or enjoy watching shows like Animal Kingdom on TV. It is an inescapable part of life here on planet Earth. We are part of the family of animals, whether we realize it or not.

Here are some links to other
funny poems about animals:

Pet Poems

Zoo Poems

Wild Animal Poems

For more funny animal poems and poems on other topics,
please return to my HOME page.