Holiday Poems for Kids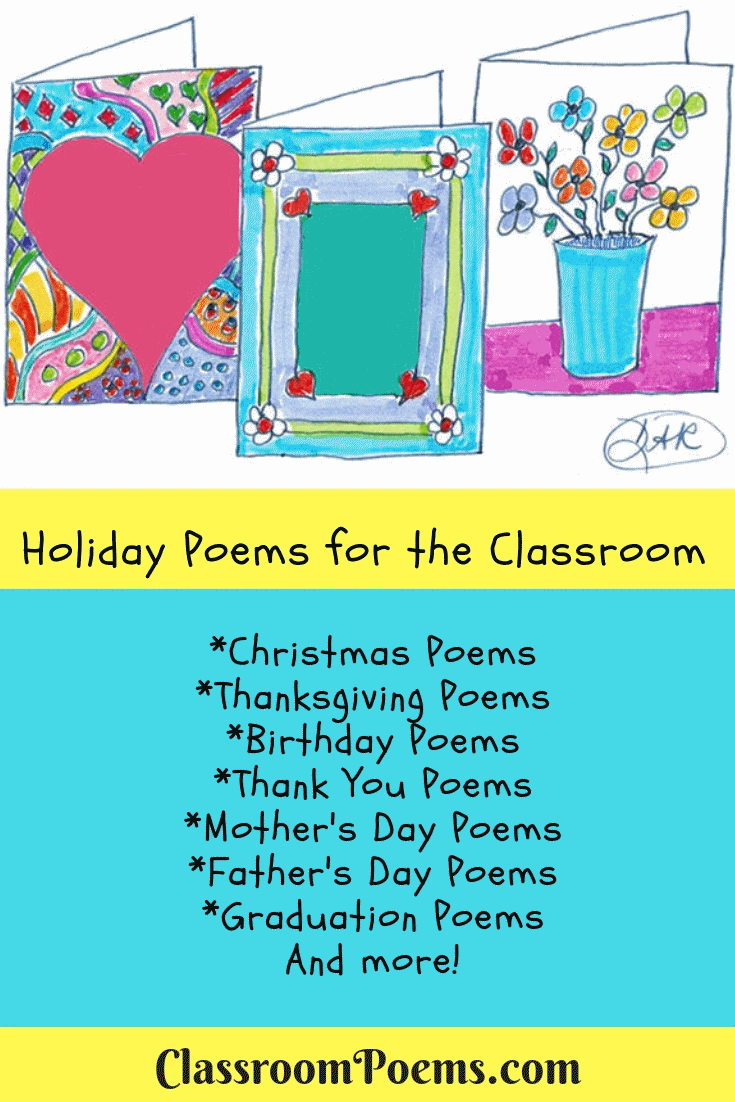 Holiday poems for kids can make us smile all year long. Whether you are celebrating a Birthday or Anniversary or letting your loved ones know you're thinking of them at Christmas, Thanksgiving, Mother's Day, Father' Day, or Graduation, you know you are touching their hearts. 
We all owe so much to our moms! They deserve to be pampered every day. While we all know that's not about to happen, the least we can do is let Mom know she's special on her birthday (see above) and on Mother's Day in May! Choose a poem to share and make mom happy.
My mother-in-law used to say that if it wasn't for fathers, there wouldn't be any mothers. She might have been right. But our dads deserve credit for much more than making Mother's Day possible. Choose from a nice selection of Father's Day poems and make one of them your own to share with Dad this Father's Day!
Holiday Poems for Kids ~
4th of July
Enjoy these Independence Day poems about barbeques, concerts, parades and, of course, fireworks! A good 4th of July celebration starts with a good poem.
Don't we all want to feel special on our birthday? Whether we're nine or ninety-nine, it's nice when someone goes to the trouble of buying a birthday card...or better yet, constructing a card along with a special birthday poem chosen especially for them
We all like to celebrate accomplishment and achievement. When your special person, be it a brother, sisters, son, daughter, a spouse, or even your parent or a friend, graduates, honor them with a special Graduation Poem.
Thanksgiving is one of those wonderful holidays. It's all about family, and all about the food. This is a great time to remember friends and family, even those who live out of town, with a special Thanksgiving Poem written into a letter or card. 
Christmas is an especially meaningful holiday for people, whether it is about deep religious feelings, or even just about enjoying family traditions. Check out our selection of Christmas poems and choose your favorite to share.
Once a religious holiday, Valentine's Day has become the holiday for romantics, as well as for students in the classroom who often exchange cards.
People are kind to us all year long. How nice to return that kindness with a Thank You poem, copied and sent in a hand-made card or letter. Better yet to write one of your own!