Metaphor Poems
Technically, there are no such thing as "metaphor poems." Unless we'd like to create a new poetic form; it's done all the time. Instead, there are poems with metaphors in them, poems that make use of metaphor to be most effective.
I've gathered up two of my poems with metaphor examples in them. The first is from page 42 of my book, A Little Bit of Nonsense.
Metaphor Poem #1

In the first poem, the words themselves are metaphors. You can't really take a poem to lunch. (Well, you could take a book, but that's not the intended meaning of the poem.) And words don't "simmer," "blend", and words most certainly do not eat a "wholesome brunch." Read the following poem and decide for yourself. . .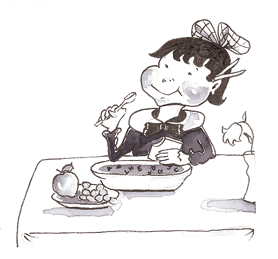 Take a Poem to Lunch
I'd love to take a poem to lunch
or treat it to a wholesome brunch
of fresh cut fruit and apple crunch.
I'd spread it neatly on the cloth
beside a bowl of chicken broth
and watch a mug of root beer froth.
I'd feel the words collect the mood,
the taste and feel of tempting food
popped in the mouth and slowly chewed,
and get the smell of fresh baked bread
that sniffs inside and fills your head
with thoughts that no word ever said.
And as the words rest on the page
beside the cumin, salt and sage,
and ever slowly starts to age,
like soup that simmers as it's stirred,
ingredients get mixed and blurred
and blends in taste with every word
until the poet gets it right,
the taste and smell
and sound and sight,
the words that make it fit.
Just write.
by Denise Rodgers
Copyright© Denise Rodgers
A Little Bit of Nonsense
All Rights Reserved
Art by Julie Martin

Metaphor Poem #2

The next poem, from page 76 of my book, A Little Bit of Nonsense, could also be called a "metaphor poem" as it is also loaded with metaphors. You don't really dig for a poem, or for a clue. There is no shovel involved, but it does make a nice metaphor, or picture, in your mind. And when was the last time you saw rhythm and meter "prancing and romancing"? Read on and see how many metaphors you can find in this poem.
Mining for a Poem
Mining for a poem
pining to go home
to where the rhyme and meter make some sense.
Digging for a clue
for what my words should do
all safely bound within a picket fence.
Searching for a rhyme
is not a waste of time,
and rhythm must be meter's closest friend.
Together they go dancing,
lithely prancing and romancing
till the poem comes to a satisfying end.
by Denise Rodgers
Copyright© Denise Rodgers
A Little Bit of Nonsense
All Rights Reserved
Art by Julie Martin