A President Millard Fillmore Poem
Please enjoy this Millard Fillmore poem, Glued with Promises, by Denise Rodgers.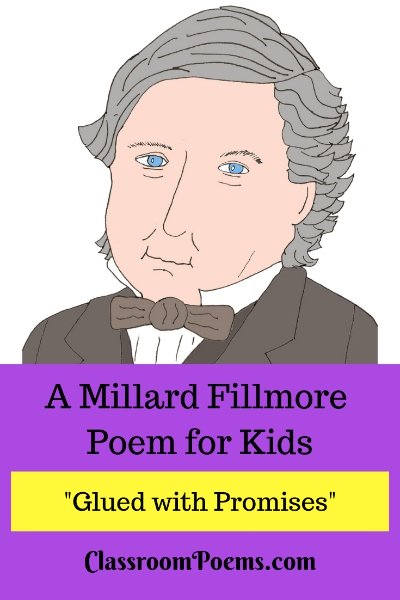 Glued with Promises
(a President Millard Fillmore Poem)
HIs goal was tough.
He tried to keep the Union strong. Intact.
But for all his troubles
he was much aligned. Attacked.
The slave states were the issue,
and he worked toward compromise.
Instead, with no one happy
he was taunted by both sides.
And that is why he served three years
and did not win again.
The States were glued with promises
and pulled apart again.
Poem and Art by Denise Rodgers
Copyright©Denise Rodgers
Permissions

---
Millard Fillmore Facts

13th President of the United State

Term:
1850 - 1853

Political Party:
Whig

Born:
January 7, 1800, Moravia, New York

Died:
March 8, 1874, Buffalo, New York

Married:
Abigail Fillmore (1826 - 1853)
Caroline Fillmore (1858 -1874)
---
Facts about the Millard Fillmore Poem
Reasons for the Civil War didn't suddenly appear during the time of Abraham Lincoln. The problems between the free and slave states were brewing for years. Fillmore did what he could to appease both sides, but this was ultimately the reason he lost nomination for the next election.

More Facts to Support
the President Millard Fillmore Poem
* Fillmore was admitted to the bar in 1823 and later moved his law practice to Buffalo, New York.
* He helped found the Whig Party in the early 1830s. He held state office for eight years and later became a member of the House of Representatives.
* Millard Fillmore was elected Vice President to Zachary Taylor in 1848, while Comptroller of New York.
* He didn't meet President Zachary Taylor until after the election and was excluded from taking part in presidential cabinet decisions. He was even denied the courtesy of making political appointments in his home state of New York.
* Millard Fillmore supported the Compromise of 1850, which was a package of five bills passed by Congress in 1850 as an effort to ease tensions between the northern and southern states. It unfortunately included the harsh Fugitive Slave Act, which placated the South and angered northern abolitionists.
* President Fillmore lost the support of the Whig party because of the division of the northern and southern Whig factions. Because of this, he was not nominated for a second presidential term.

Fun Facts about
President Millard Fillmore

 
* Millard Fillmore grew up in a log cabin and lived the frontier life in the Finger lakes area of New  York state between Syracuse and Buffalo.
* He was the first president to have been raised by a stepmother.
* He attended a one-room schoolhouse and worked his father's farm.
* Fillmore fell in love with his schoolteacher, Abigail Powers, who later became his wife.
* Abigail Fillmore was the first, First Lady to have held a job outside the home while married. She quit teaching after giving birth to their first child in April, 1828.
* President Fillmore would return to the White House from trips with armloads of books. He and First Lady Abigail Fillmore established the first permanent library in the White House.
For more President Millard Fillmore facts, go to WhiteHouse.gov. If you enjoyed this Millard Fillmore poem, go to our US Presidents List page for links to more US President poems.