A President James Garfield Poem
Please enjoy this James Garfield poem, One Oddball Guy, by Denise Rodgers.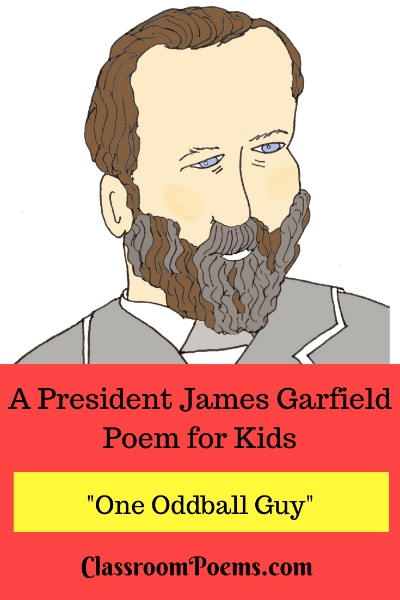 One Oddball Guy
(a President James Garfield poem)
The truth is
James Garfield was awfully weird.
It wasn't his mustache
or extra long beard.
('though they didn't help!)
Like his dog, Veto,
he'd bark right out loud
when greeting a person, a group,
or a crowd.
He was king of brainy;
a nerd, or a geek.
He  wrote with both hands
In both Latin and Greek.
It's sad he was killed;
and our nation did cry
for a father, a president,
one oddball guy.
Poem and Art by Denise Rodgers
Copyright©Denise Rodgers
Permissions

---
Facts about the
President James Garfield Poem
Before becoming president, Garfield studied and taught Latin and Greek. He was ambidextrous (meaning he could write with both his right and left hands), and was able to translate and write in Greek with his left hand, while doing the same in Latin with his right! He was also known to greet personal guests to the White House by barking along with his dog, Veto. Garfield died during his first year in office, just ten weeks after a disgruntled office worker shot him as he boarded a train in Washington, D.C. He had been working to reform government and root out scandal before his untimely death.
---
President James Garfield Facts
20th US President
Term: 1881 (assassinated)
Political Party: Republican
Born: November 19, 1831, Cuyoga County, Ohio
Died: September 19, 1881, New Jersey
Married: Lucretia Garfield, 1858 - 1881
---
Log Cabin and More...
About President James Garfield 
* James Garfield was the last of the log cabin presidents. 
* Garfield served as a Union brigadier general and later as a major general of volunteers in the Civil War.
* He served nine terms in the US House of Representatives before being elected as a "dark horse" (unlikely to win) candidate.
* He won election by only 10,000 vote against Democrat General Scott Hancock, but won the electoral college vote 214 - 155.
* After election, Garfield ignored party bosses and made political appointments on merit, rather than on favors to those in power in Congress. This made him an honest man, but not necessarily a popular person in Washington, D.C.
* His first and only presidential term lasted 200 days. There were 79 days between the shooting and his death, which was hastened by the unsanitary conditions of medical care of the time. 
* More than 100,000 people came to pay their respects as Garfield lay in state at the Capitol Building Rotunda, and another 150,000 attended his funeral in Cleveland, Ohio. Garfield left behind his wife, Lucretia, and five young children.
For more President James Garfield facts, go to WhiteHouse.gov or Smithsonian.com. For more presidential facts and poems, go to US Presidents List.