A President Jimmy Carter Poem
Please enjoy this Jimmy Carter poem, Toothy Grin,  along with facts about the 39th president of the United States.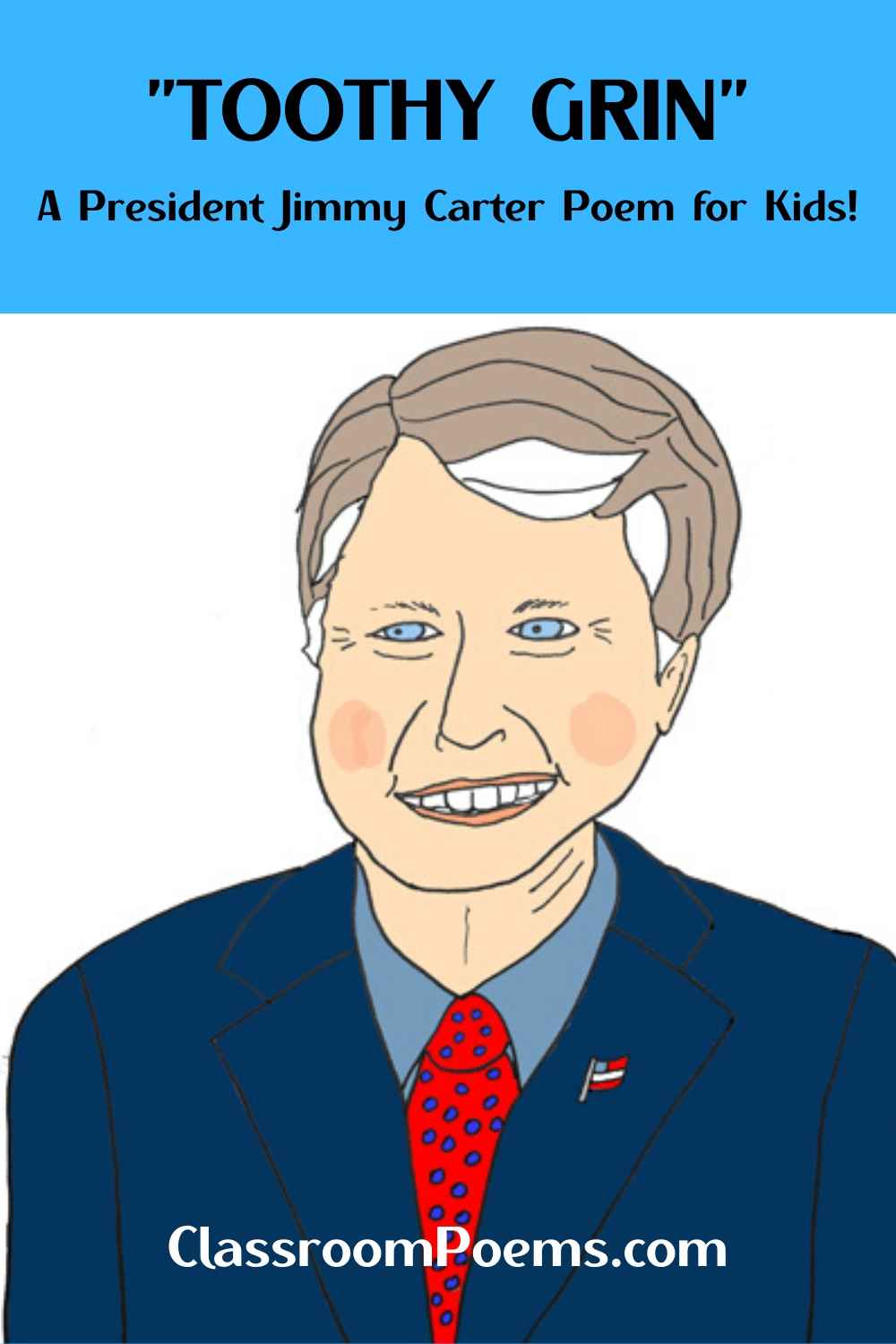 TOOTHY GRIN
A President Jimmy Carter Poem
Toothy grin
Lack of sin
Loved his wife
all his life
Put up fights for 
human rights
One big spoil
was lack of oil
High inflation
plagued the nation.
Kept heat low
not for show.
Saved on fuel
was no fool.
Knew his mind
was so kind.
Then Iran
spoiled his plan.
Hostages taken
Nation shaken.
Made him squirm
Just one term.
Poem and Art by Denise Rodgers
Copyright©Denise Rodgers
All rights reserved.
Permissions

President Jimmy Carter Facts
39th US President
Term: 1977 - 1981
Political Party: Democrat
Born: October 1, 1924
Married: Roslyn Smith, July 1946
Facts to Support the Jimmy Carter Poem
James Earl Carter was an informal man who preferred to be called "Jimmy." He campaigned for president as a Washington outsider. This helped him win, but it wasn't much help once he was in office. He had difficultly working with Congress, sometimes even with members of his own party. During his term in office, inflation doubled to 12%. There was a national energy crisis complete with long lines at the gas pump. To make matters worse, as people started buying fuel-efficient Japanese cars, some 300,000 American autoworkers lost their jobs. What really made it difficult for Carter to win a second term was the hostage crisis in Iran. Iranian student militants demanded the return of the Shah of Iran in exchange for the American hostages they held. The hostages were not released until Ronald Reagan took office. 
The Early Years:
Facts to Support the Jimmy Carter Poem
* Jimmy Carter's family settled in America back in the 1630s, and re-settled in Georgia some time after the Civil War.
*Carter's parents, James Earl and Lillian, owned a peanut farm and warehouse, as well as a small store, just outside Plains, Georgia. 
* The first of four children, Jimmy Carter was the first US president born in a hospital, and was named after his father. When growing up on the farm, his home did not have electricity or indoor plumbing.
* At the age of 10, Carter sold produce from his family farm in town, saving money the money he earned. By the age of 13, he bought five houses that had been lost to the bank during the Great Depression, and rented them to local families.
* Carter graduated valedictorian of his tiny high school class in 1941. Longing for travel and adventure, he aspired to join the Navy and follow the footsteps of one of his uncles. 
* After working hard to make his dream come true, Carter was admitted into the Naval Academy in Annapolis in 1943. He graduated in the top 10% of his class in August 1946, just after World War II ended.
* As Lieutenant Carter in the US Navy, he selected submarine service, the most hazardous duty. 
* While moored in Bermuda, British officials invited only the white submarine crew members to an onshore party. Carter, along with all the other white crew members, refused to attend.
* in July 1946, Carter married Roslyn Smith. He'd proposed marriage twice to win her heart.
* When his father died in 1953, Carter resigned his naval career and returned to Plains, Georgia, to help run the family farm. 
* In keeping with his distaste for racial discrimination and prejudice, Carter was the only white male in Plains, Georgia who refused to join the White Citizens Council, an organization established to fight Civil Rights, particularly the civil rights of African Americans. Because of this, Carter's peanut business was boycotted. Carter held out against this pressure, and this difficult situation eventually blew over. 
Early Political Career:
Facts to Support the Jimmy Carter Poem
* In 1955, Carter ran for a seat on the Sumter County Board of Education and eventually became chairman.
* In 1959, Carter served as a hospital and library board member, and also became a church deacon.
* A new seat in the Georgia State Senate opened in 1962. Carter ran and won the primary after proving fraudulent action on the part of his primary opponent. He won this election and served two terms. During this time he attacked government waste and laws discouraging African Americans to vote. 
* Carter planned a run for a US Congressional seat in 1966. He ran — and lost — going into debt because of campaign costs.
* Undaunted, Carter ran for governor of Georgia in 1970, campaigning as a segregationist in order to win the primary. He won the primary and the governor's seat, surprising everyone with an inaugural address calling for the end to segregation.
* In keeping with his anti-segregation stance, Carter increased his African American staff in Georgia State government by twenty-five percent.
* As governor, he focused on Georgia's bloated and wasteful bureaucracy. 
* He was unfortunately seen as arrogant by even his fellow Georgia State Democrats.
The Presidency:
Facts to Support the Jimmy Carter Poem
* Carter announced his bid for the presidency in 1974 and began a two-year campaign to make it happen. He was nominated on the first ballot at the Democratic Convention, and debated President Gerald Ford three times during the campaign.
* Carter won the the 1976 election 297 electoral votes to 241 for Ford. He'd campaigned as a Washington outsider. After all the drama of the Watergate scandal and impeachment, he was a refreshing option to the voting public.
* At his Inaugural speech, Carter promised to return government to the people. To illustrate this point, he walked from the Capitol to the White House, instead of riding in a limousine. 
* As president, Carter carried his own luggage, rather than accepting help from White House staff, and preferred to be called Jimmy Carter, rather than his given name, Jame Earl Carter, Jr.
* It wasn't an easy time for Jimmy Carter as president. Inflation was high at 6% when he took office, and wages weren't rising at the same rate. Worse yet, inflation rose another six percent — to a high of 12% — during his term in office.
* The energy crisis was the country's biggest problem. The cost of oil kept going up. Inn 1979, OPEC (Organization of Petroleum Exporting Countries) raised the price per gallon from $14 to $28. This led to a shortage of affordable gas, as well as long lines at gas station pumps. Rationing of gas led to an economic disaster for the US auto manufacturers, as Americans started buying small Japanese cars with better fuel mileage. 
* Because of the energy crisis,  300,000 American autoworkers lost their jobs, and Congress bailed out Chrysler with a one billion dollar federal loan guarantee. 
* To combat the energy crisis, Carter tried to set an example for Americans by turning down the White House thermostat in cold weather, and also by using the stairs, rather than elevators, to get around the White House. 
* Carter had the US boycott the 1980 Summer Olympics (held in Moscow) as a protest of the Soviet Union invasion of Afghanistan. This was a controversial decision, as many athletes spend years preparing for the Olympics, and it was disappointing to Americans that the US did not compete.
* The Camp David Accord. Carter met with Egyptian President Anwar Sadat and Israeli Prime Minister Menachem Begin in September, 1978. This led to an historic peace treaty between Israel and Egypt in March, 1979.
* The Iran Hostage Crisis made it difficult for Carter to win election for a second term. On November 4, 1979, a mob of Islamic students attacked the US Embassy in Iran, taking the American staff hostage. The student militants wanted the Shah of Iran, who was undergoing cancer treatment in New York, returned in exchange for the hostages. Carter would not give in to terrorist demands. Despite all diplomatic and military efforts, the hostage situation persisted 444 days. At this time, a settlement was reached, on Carter's last day in office.
For more information about President Jimmy Carter, please go to WhiteHouse.gov or Biography.com. If you've enjoyed this Jimmy Carter poem, please go to our US Presidents List page for links to poems about other US Presidents.