A President Calvin Coolidge Poem
Please enjoy this President Calvin Coolidge poem, Cool Cal, by Denise Rodgers.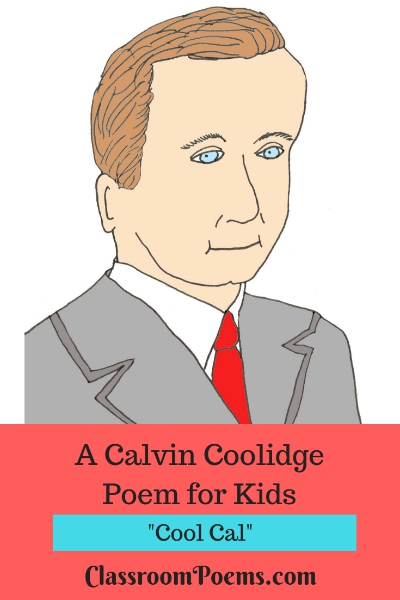 COOL CAL
A President Calvin Coolidge Poem
So silent and "cool"
while the twenties were roaring.
President Coolidge was quiet.
Not boring.
He didn't say much,
as he weighed every word.
He clearly found small talk
a waste and absurd.
Staunchly pro-business,
the country grew wealthy.
The flappers were flapping,
and business was healthy.
A popular president
till his last day.
His choice to not run
was announced his own way.
All that he said:
"I do not choose to run."
With no explanation,
Cal Coolidge was done.
Poem and Art by Denise Rodgers
Copyright©Denise Rodgers
All rights reserved.
Permissions
About the President Calvin Coolidge Poem
Calvin Coolidge was known for his silent ways, which were in contrast to the exuberant  "roaring twenties." He restored confidence in government by rooting out corruption. His pro-business policy and tax cuts helped fuel the prosperity of the time. Coolidge's first term started when President Harding died while in office. He won  unanimous nomination for his second term and easily won the race. Although he was a popular president, Coolidge chose not to run again, and made this pronouncement to the American public with a predictably short single sentence: "I do not choose to run for president in 1928." And he didn't.
---
Calvin Coolidge Facts
30th US President
Term: 1923 - 1929
Political Party: Republican
Born: July 4, 1872, Plymouth Notch, Vermont
Died: January 5, 1933, Northampton, Massachusetts
Married: Grace Anna Goodhue, 1905 - 1933
---
More Facts to Support
the President Calvin Coolidge Poem
* Coolidge was born in Plymouth Notch, Vermont, and attended a one-room school house.
* He graduated from Amherst College in 1895 and was admitted to the Massachusetts Bar in 1897.
* Coolidge's political career started in 1898 when he became a Northampton City Councilman. In succeeding years, he became a City Solicitor, the City Republican Chairman, and Clerk of the Courts.  He was elected to the Massachusetts General Assembly in 1906, and went on to become Mayor of Northampton, after which he was elected to the Massachusetts State Senate. This led to election as Lieutenant Governor  (1915 - 1917) and then Governor in 1918 - 1919. He was nominated Vice President of the United States as Warren Harding's running mate, and became the first  Vice President to attend cabinet meetings. He succeeded to the presidency upon President Harding's death on August 3, 1923. 
* Coolidge's inaugural Address was the first ever broadcast on radio.
* After retirement, he wrote his autobiography, as well as magazine articles and a syndicated newspaper column.
More Calvin Coolidge Facts
* During Coolidge's term, the national debt was reduced from $22.3 billion in 1923 to $16.9 billion in 1929. During the same time period, the US federal budget dropped from $5.1 billion to $3.3. billion. 
* Unemployment averaged only 3.3% from 1922 to 1929.
* During his presidential service in office, Coolidge dedicated Mount Rushmore and authorized construction of the Hoover Dam on the Colorado River border between Arizona and Colorado.
* Coolidge promoted commercial aviation, making the way for passenger aircraft availability. Congress passed the Air Commerce Act in 1926 regulating commercial aviation, and establishing the first two airline routes going north-south and east-west.
* President Coolidge was a civil rights advocate. He would not appoint any known Ku Klux Klan member to office. He did, in fact, appoint African Americans to government positions and advocated for anti-lynching laws. In 1924, Coolidge signed the Indian Citizenship Act, granting all native Americans full citizenship while retaining their tribal and land rights.
* Coolidge was well known for his dry Yankee wit and for using a legendary economy of words. He is quoted as saying, "I have never been hurt by anything I didn't say."
* First Lady Grace Coolidge told the story of a young White House guest seated next to the president, who confided to him that she'd bet a friend she could get three words out of the president. Coolidge's response: "You lose."
* To capitalize on his cool, silent image, Coolidge's winning presidential campaign slogan was "Keep Cool with Coolidge."
* Despite the opulence of the 1920s, Coolidge was well liked for his old-fashioned values of thrift, industry, morality, frugality, and faith.
Fun Facts
in Addition to the Calvin Coolidge Poem
* The press referred to the Coolidge White House as the Pennsylvania Avenue Zoo. (The White House is on Pennsylvania Avenue.) In addition to multiple dogs, cats, and canaries, the Coolidges were gifted with a black bear from Mexico, an African pygmy hippo, as well as a pair of lion cubs that Coolidge named "Tax Reduction" and "Budget Bureau." But the most famous White House pet was Rebecca the Raccoon, originally given to the White House for the purpose of being the main course in  their Thanksgiving dinner. Not only did Coolidge pardon the raccoon, she became a well-loved family pet.
* In addition to his nickname of "Silent Cal," Coolidge was also dubbed "Red," for his hair. The White House staff was reported to privately call the stern-faced president "Smiley." 
* Despite his silent and stern ways, Coolidge had a lighter side (in addition to his pets). Because the Secret Service did not permit him to ride a horse on White House grounds, evidently for security reasons, a friend gave Coolidge the gift of a mechanical horse. Coolidge rode the electric horse some three times a day, reportedly whooping like a cowboy. He was ahead of his time, exercising indoors on an electric machine, decades before treadmills, stair steppers and elliptical trainers.
For more Calvin Coolidge facts, go to The Coolidge Foundation, History.com, and  The Washington Post . If you enjoyed this President Calvin Coolidge poem, please go to US Presidents List for links to poems about other US presidents.