Get Well Poems
Why write or send funny get well poems? It's simple. Everyone likes a little attention when they're sick or laid up with surgery or medical treatment. Many people enjoy a little humor. I know I do! It helps to know that people care about you and are thinking of you.

So please enjoy this collection of poems to give someone who is under the weather, or feeling not quite up-to-snuff, to use some old-timey cliches. Read them. Share them - as long as they are for your own personal use and gift-giving. If you'd like to use them on your web site, of for any commercial purpose, please read our terms of use. And if you're looking for a special get well gift, consider a book of funny poetry.
Get Well Poem #1
The first of the poems on this page addresses the flu. It's good to make someone smile with a hot cup of tea and one of these funny poems.
The Flu
You have the flu.
You're breathing glue
And feeling kind of hot.
Your fever's high
And though you try
Your nose stays full of snot.
So drink some tea
And think of me.
As far as I can tell,
You'll get no hug
Or see my mug
Until you're feeling well.
Get well soon!
by Denise Rodgers
Copyright© Denise Rodgers 
All Rights Reserved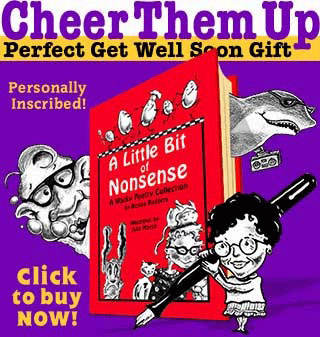 Okay, in the interest of being honest, I will admit that the idea for the next poem came to me while taking out the garbage. The bag was torn and my hand clutched some used tissue (yuck!) and suddenly the words, "wheezy" and "queasy" came to mind. I finished with the trash, washed my hands, (did I mention that I have OCD?) and wrote the words down for later.

Get Well Poem #2
Wheezy
You're wheezy,
And sneezy,
And feeling kind of queasy.
Your head feels like an overstuffed balloon.

You're tired,
Perspired,
And feel like you've expired.
But here's a wish
Instead:
Please get well soon!

by Denise Rodgers
Copyright© Denise Rodgers 
All Rights Reserved
Get Well Poem #3
The following funny poem gets a lift of humor with the wordplay in the last two lines. That's the fun of poetry: if you don't have just the right word -- you can make it up!

We Hope That It's Not Serious
We hope that it's not serious.
We hope you're not delirious.
We hope that you're not feeling blue.
We hope it's not a nasty flu.
We hope your butt's not in a sling.
We wish you only best of things.
We send you all our get-well wishes
Packed along with love and kishes.

by Denise Rodgers
Copyright© Denise Rodgers 
All Rights Reserved

A collection of these well-wishing poems would not be complete without a poem regarding surgery. This poem is light and friendly, with just an edge of humor at the very beginning.
Get Well Poem #4
Get Well Soon
We know that you've had surgery
in places not to mention,
And you've been gone for long enough
to gather our attention.

So you can see, we've signed this poem, 
and folded it to send,
With wishes for recovery, 
for you to heal and mend.

You might be kind of wondering 
why we would make this fuss.
The truth is that we miss you much 
and want you back with us!

by Denise 
Copyright© Denise 
All Rights Reserved

Get Well Poem #5
There is sometimes a good side to convalescing. All of us occasionally need a true day off to lay in bed and watch TV. That is what this funny poem is all about.

In Bed All Day
You get to stay in bed all day.
You get to watch TV
Or lay around or read a book.
Your time is really free.

Forget your work, your empty desk
With files stacked to the ceiling
And loads of e-mails to be read.
We know how you are feeling.
Just settle back and rest a while.
We promise you no flack.
But when your rest is over, well,
We really need you back!


by Denise Rodgers
Copyright© Denise Rodgers 
All Rights Reserved

---
If you've enjoyed these funny get well poems, 
please return to my home page for more funny poetry topics. 

or go to 

---


Funny Wedding Poems 

or

Michigan Poems 

or

Twisted Funny Poems