Hello!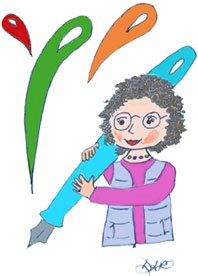 Some time ago, you showed interest in Funny Poems, and signed up for our newsletter at Funny-Poems-for-free.com. Here's the news: we are undergoing an exciting change, starting with the name of our web site, which is now
Classroom Poems!

While the emphasis will always be on funny poems to make you smile and lighten your day, there will be many new school poems coming your way -- for you to share with your students and/or your own kids -- to make learning fun!

Currently, I'm working on (playing with) a collection of poems for kids about every president of the United States, starting with numero uno, George Washington. (Did you know there were some people who wanted him to be king?)

To thank you for your interest in funny poems, we are presenting you with this Free Downloaded Illustrated Poem! We hope to reach out again soon with our latest new poem or page. (If you'd rather, you may 'unsubscribe' at the bottom of this message.)

Wishing you the best of everything – and a never-ending supply of funny Classroom Poems!

Sincerely,
Denise Rodgers
ClassroomPoems.com

PS: A poem a day keeps the doldrums away!